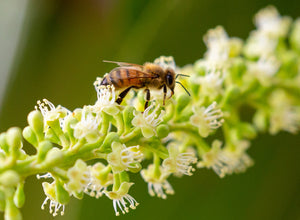 For our ʻohana, beekeeping is a labor of love.
Beekeeping led to making nourishing products with raw Hawaiian honey and other locally sourced ingredients. Supporting local, sustainable living and using natural, superfood ingredients in our small batch products are the foundational elements of our company.
We are a small family business located in Kailua, O'ahu. Our logo includes the iconic Mokulua islands located offshore from our beautiful hometown.
We started keeping bees a couple years ago as a labor of love after learning about colony collapse disorder. We had also noticed that many of our plants weren't being pollinated. Now, we see lots of honeybees buzzing around plants in Kailua! This makes us so happy.
During winter, the bees prioritize colony survival rather than honey production. Therefore, we don't harvest honey in the winter. Honey production is much stronger during summer when many flowers are in bloom.
Richard
Richard is our beekeeper and taste-tester-in-chief. He extracts honey from our backyard hives and performs hive inspections as needed. He is a honey connoisseur and always brings home a jar of honey when he travels. He will tell you without a doubt that our Kailua Honey is the best!
Shiyana
Meet our honey mixologist! She dreams up onolicious recipes by carefully selecting various raw Hawaiian honeys (Wild blossom, Ohia Lehua, Wilelaiki, Macadamia and of course, our own Kailua Honey) and blending with nutrient-dense, wholesome ingredients to make our Infused Hawaiian Honeys.
Roen
Roen is our eCommerce manager, jack of all trades and master of none! He's in charge of the website, online orders and logistics. He also helps with marketing and customer relations when he doesn't have too much homework! He loves seeing our bees pollinating Kailua.
Where do our bees forage?
Our Kailua bees forage in a radius of up to four miles from our yard. The flavor of our honey changes during the seasons based upon the flowers that are in bloom. Spring and summer honey tends to be more floral in flavor while fall honey can be slightly spicy due to the bees visiting wilelaiki trees which bloom in the winter.
We started producing Hawaiian Macadamia Nut Honey Butters and Infused Honeys to diversify our business during periods when honey production is low. Both our Nut Butters and Infused Honeys have been widely acclaimed and most people who try them become repeat customers. Our most popular infused honey flavors are Hibiscus Honey, Pineapple Honey and Cacao Honey. Our Naked Macadamia Nut Honey Butter and the Sweetheart Cinnamon with Vanilla Bean are also customer favorites.