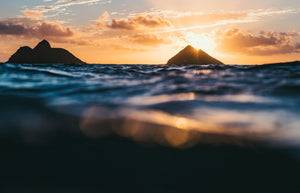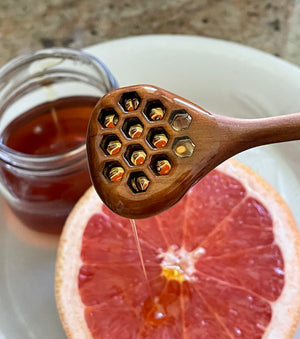 Packed with antioxidants, antibacterial, a phytonutrient powerhouse
We're a small family business located in Kailua, Oahu. We started keeping bees a few years ago to help them survive in a world where pesticides have wiped out too many precious bees. Our backyard apiary, led to making handcrafted, small batch products using our raw honey. We are Hawaii's leader in infused artisanal honey. Our latest creation is Hot Hawaiian Honey, made with Hawaiian Chili Peppers grown in our backyard.
Our collaborations with two local businesses, Ko'olau Distillery and Bottlehead's Hawaii, led to making Spirited Honeys: Barrel-aged Bourbon Honey, Old Pali Road Honey and Kailua Badass Honey. Our latest creations is Festive Hawaii Honey with local macnuts and Grand Manier.
Our line of Ayurvedic Honey (Ginger Lemon, Ceylon Cinnamon, Garlic and Turmeric-Ginger) are made to promote healing and health.
Last but not least, we introduced the world to all natural, Macadamia Nut Honey Butters flavored with Hawaiian Chocolate, Kona Coffee and Cinnamon-Vanilla. Read Our Story
Want free shipping?
Shipping to the U.S. mainland for regular orders typically ranges from $6 to $13 per order based on weight. We offer free shipping on all orders of $75 or more.
100% Raw and Local
Our raw Kailua honey is truly hive-to-jar. We never dilute our honey, pasteurize, add sugar, or adulterate it in any way. Our small batch products such as our Macadamia Nut Honey Butters and Infused Honeys are made only with natural, nutrient dense ingredients.
Whenever possible, we support Hawaii farmers and small businesses by locally sourcing our ingredients and product materials. We are a proud member of the Made in Hawaii with Aloha program.